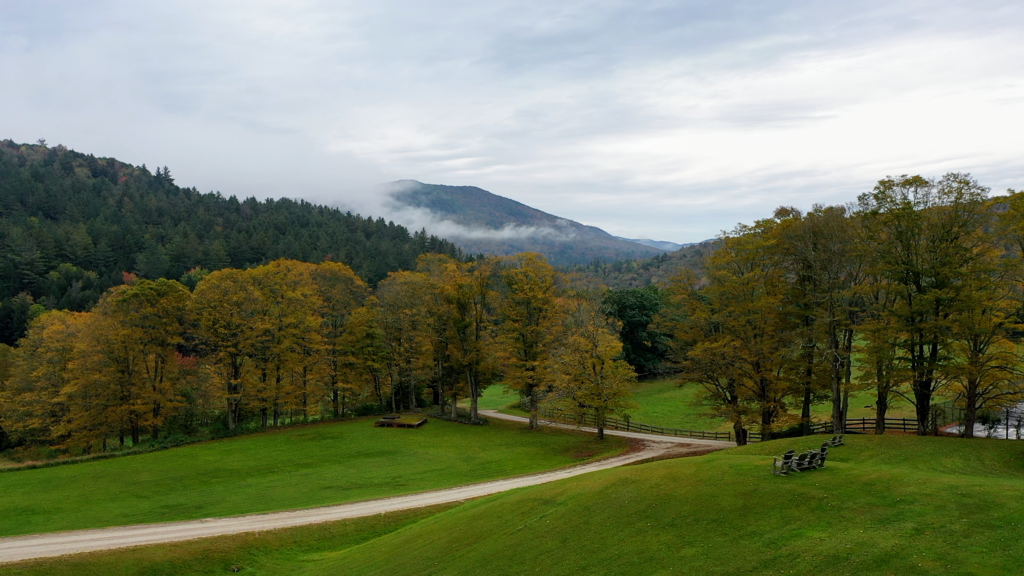 _____________________________________________________________________________________
Vicarage - Directions
The Vicarage is a private farmhouse located at 657 Bridgewater Center Road, Bridgewater Corners, VT. Click this link to open driving directions on Google Maps.
Driving Distances

From Boston, 158 mi to the NW via I-93 N and I-89 N
From Montreal, 188 mi to the S via I-89 S
From New York City, 252 mi to the N via Taconic State Parkway
From Hanover, 28 mi to the E via US-4 West
_____________________________________________________________________________________
Checking In
Self check-in time is anytime after 3 PM. Please message or communicate with us if you are going to arrive earlier and we will do our best to accommodate you. There is free parking when you arrive. The outdoor lights will be on, and the door will be open for you to get yourself checked in. If you do need to lock/unlock the door, the access code can be used for the duration of your stay (1965).
Parking is available in the driveway. Please enter through the doorway on the left side of the building (shown below).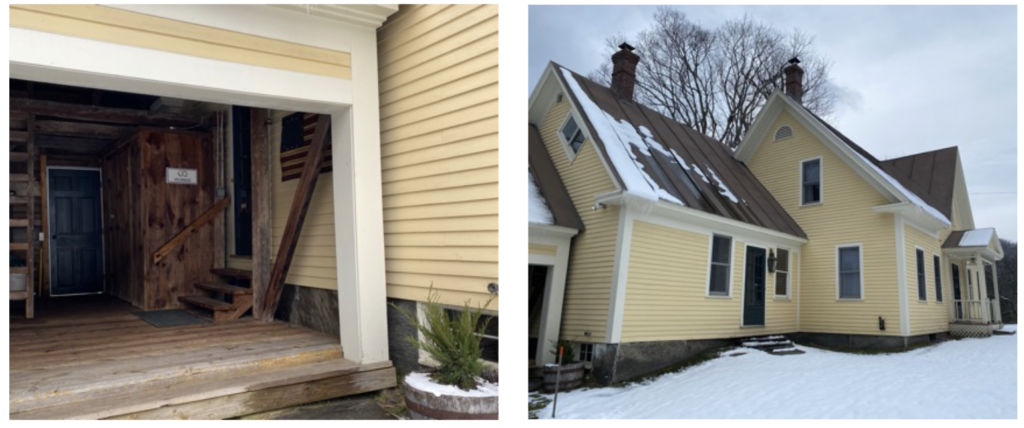 Features
The wood-burning stove is available for your use. Extra wood can be found near the entryway.
Please note that the flu is open using the metal pin on the chimney. Use gloves when opening the stove – it gets hot!
Laundry is available for you to use as needed in the basement.
_____________________________________________________________________________________
_____________________________________________________________________________________
We are connected to OQ Farm at 298 Holiday Farm Rd, Bridgewater Corners, VT. You are welcome to use the walking trails, access the chapel, and visit animals that live at the farm as well.
Check out our walking trails on Alltrails!
Chapel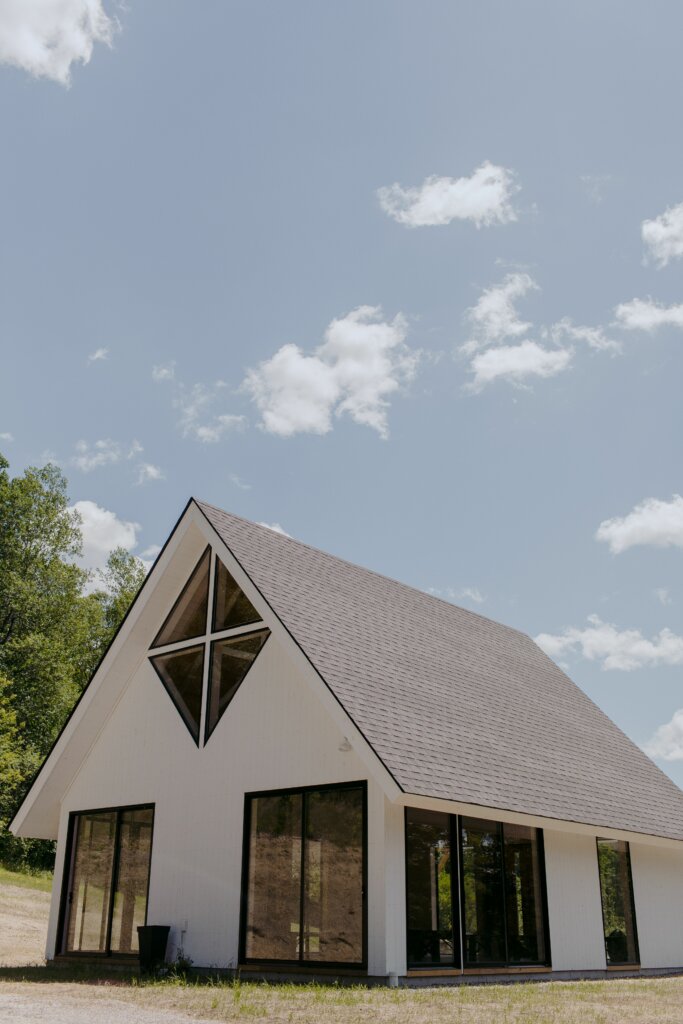 Our Chapel is open for our guests to use anytime. Feel free to light a fire in the wood burning stove, practice yoga, or just take in a quiet moment alone while enjoying the views from the bluestone patio.
The Chapel has dedicated WiFi:
OQ Chapel Wifi
PW: oqsanctuary20
Outdoor Fire Pit
Just behind the Refectory building is a large outdoor fire pit area and wood if you would like to enjoy some time outside. We ask that proper fire safety precautions are taken at all times when using this area.
Water
Our water is some of the best in New England! We welcome you to enjoy it right from the tap!
Television
While we have Wi-Fi throughout the property, we do not have cable. Our TVs are ready to hook-up to any of your accounts (Netflix, Prime, Hulu, Disney+) for you to enjoy!
Animals
All of our animals were rescued and provided a home at OQ Farm, where we are proud to give them a safe and comfortable home. Our caretakers are happy to introduce you to the animals, but we ask that you do not go into any of the animal areas without a caretaker present. This is for the safety of both our guests and the animals, and we thank you for taking it seriously.
_____________________________________________________________________________________
Rules and Regulations
House Rules
• No smoking
• No unauthorized parties or events
• Self check-in
• Please respect our other guests and reduce noise
• Please close all windows / doors and turn off lights before departure
• Trash can be disposed of in the dumpster behind barn
• Please respect our animals - do not enter any animal enclosures without a caretaker
Damages: If you damage the home in any way, you may be charged up to $500 for damages. Lost keys will incur a $75 replacement fee.
Checking Out
Check-out time is at 11 AM. We do our best to accommodate late check-outs, so please contact us if you need that. We can only accommodate depending on availability.
Before checking out, please do the following:
• Load the dishwasher with any dirty dishes and turn on
• Strip beds and leave sheets in a pile on the bed/floor
• Leave trash in garage area outside side door
• Return the heat to 62
• Make sure the door is closed and locked
We hope you had a wonderful stay and wish you safe travels back home! If there have been any issues, please tell us as soon as possible, as we want to ensure we can resolve them for you and future guests.

_____________________________________________________________________________________
Telephone Numbers You May Need
Property contacts:
Marina +1 978 501 1156
Mike +1 681 209 1488
Tina + 1 802 245 4053
Emergency services:
In case of emergency, please dial 911.
Closest Hospital:
Rutland Regional Medical Center
160 Allen Street 05701
Rutland, VT
+1 802 775 7111

Closest Police Station:
Woodstock Police Dept.
454 Woodstock Road
Woodstock, VT 05091
+1 802 457 1420
_____________________________________________________________________________________
Local Attractions
Woodstock Village
Woodstock, Vermont is known for its charm, covered bridges, boutique shopping, and the abiding influence of Laurance Rockefeller, who spent six decades of time, effort and great Rockefeller wealth to make Woodstock "one of the six most beautiful towns in America." The Rockefeller Trust-owned Woodstock Inn at the heart of town is home to a world-class spa and restaurants.
Breweries
With Long Trail Brewery right across the street, you don't have to travel far for great beer and atmosphere. Harpoon Brewery is also nearby in Windsor, Vermont. If you're looking for more stops during your visit, Lawson's Finest Liquids, Lost Nation Brewery, Vermont Beer Makers, Upper Pass Beer, and Bent Hill are a few of the Vermont breweries we love.
Killington/Pico, Okemo & Suicide 6
Killington Resort, known as the "Beast of the East," is the biggest ski resort east of the Mississippi River. Pico, the sister-mountain to Killington, also offers impressive terrain. Despite its smaller size, Pico has 58 trails for skiers and riders to explore. In the spring, summer and fall, Killington offers visitors hiking, mountain biking, golf and a range of outdoor festivals.
Okemo Mountain is only twenty minutes away in Ludlow, VT.
Suicide Six, the smallest of the three, is one of the oldest ski resorts in the country. Suicide Six also offers trails for hiking and mountain biking throughout the year.
More Local Attractions
Within the vicinity of OQ Farm is Marsh-Billings-Rockefeller National Park (the only National Park in Vermont), Simon Pearce Glass, Andrew Pearce Wood, Farmhouse Pottery, King Arthur Flour, galleries and boutiques, and the Appalachian Trail, offering a multitude of activities in every season.
Local Food and Drink
• Ramunto's Brick and Brew Pizza
• Kedron Valley Inn Ransom Tavern
• Woodstock Inn Richardson's Tavern
Cafés and Shops
_____________________________________________________________________________________
Stay In Touch!
Looking to book again? We would love to have you back at OQ Farm!
We recommend booking directly via our website, where you will access the lowest rates: oqfarm.co
We hope to see you again soon!
Follow us on Social Media!
We'd love to see you over on our social pages. Just click on the links below and start following us!
Also, please leave us a review so we know how we can improve!
Thank you for Visiting OQ Farm!